April 17, 2006
Don't mess with us
by Ed Rozmiarek
I normally don't post these web gadgets but this was just too funny.
Thanks Hinj.
Posted by edroz at
8:01 PM
|
Comments (1)
April 16, 2006
What Spring?
by Ed Rozmiarek
I thought Easter was suppose to be the start of Spring not Summer. Where did Spring go?!? 96 degrees on April 16? Looks like a long hot summer this year. And where's the rain?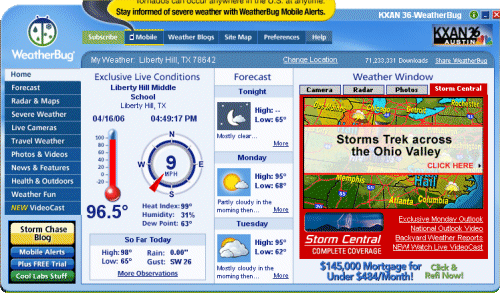 Susan and I knew it was going to be hot today but we decided we needed to get some yardwork done anyway. We started after lunch and came in around 4:30. The thermometer on the front porch was reading 95 and the WeatherBug site at the local middle school was reading over 96. So much for trying to beat the heat this year.
Happy (Hot) Easter to everyone!
Posted by edroz at
5:05 PM
|
Comments (0)
April 11, 2006
Warning: A teenager now lives here.
by Susan Rozmiarek
I'm a little late in posting this:
Happy 13th Birthday
Kevin!!!!
Yes, Kevin is officially a teenager now although he's already been acting like one for some time. We took him out to eat at one of his favorite restaurants, Joe's Crab Shack to celebrate. While we were there, some girl kept text messaging him on his cell phone. Yikes, he's growing up too fast!
Here he is opening up one of his presents after soccer practice. He is so busy with soccer these days he hardly has time for anything else.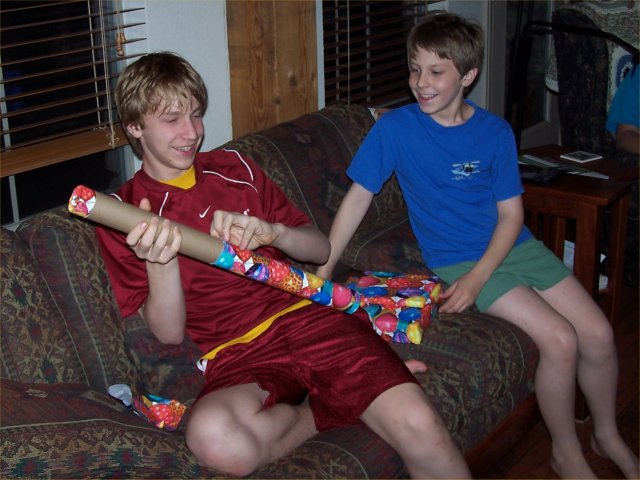 Posted by susanroz at
4:53 PM
|
Comments (0)