The Game Ranch Roundup - December 17
by Ed Rozmiarek

Caylust strikes Central Texas!
Wow, we set a new record today with 16 gamers and up to four tables going at once. We welcomed two new gamers to the group, Wendy and Scott. They have been hanging out on our Yahoo group for a while and were finally able to stop by this weekend. We hope they had a good time and will visit again soon.
This game day was unique in another way. We normally don't see the same game played more than once during a session unless it is a quick filler. However, today was the day Caylust struck the game group. While some people can't get a copy, we had not one, not two, not three, but four copies of the much hyped Caylus show up. And it seemed everyone wanted to play so we saw three games of Caylus played today.
Caylus
(reported by Susan)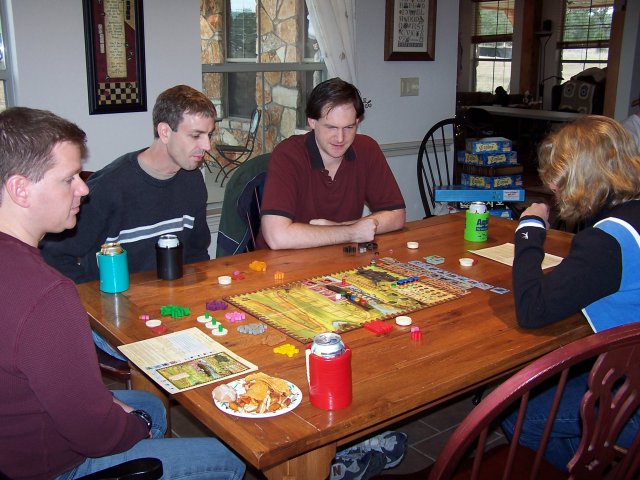 Mike, Marty, Brian, Susan and Ed start off with the much hyped Caylus.
Well, I finally had my chance to bask in the glory of the gaming goodness that is Caylus. So, I took it. Good grief, this has to be one of the most over-hyped games ever. I purposely set my expectations a little low so I wouldn't be disappointed. It turned out to be very different than what I was expecting. I was expecting one of those heavy games with a lot of planning, the sort in which you lose yourself and come out two hours later immensely satisfied but with a ghastly headache - a Puerto Rico or Age of Steam or Goa. Instead, Caylus appears to be more of a tactical game of grabbing opportunities as they are presented. The only planning seemed to be collecting particular resources for a turn or two ahead. Afterwards I did read some discussions that indicate that there are some strategic paths, but I sure didn't see them as I was learning the game this first time. Also, it bothered me that the winner of the game, Brian, had a very solid lead fairly early and I could not figure out how he did it. Add a few significant rules that we (or just me) got wrong and it adds up to a game that I definitely need to play again. Another quibble I had was that at a little over two hours, it felt too long. I was feeling restless for the last 30 minutes. Long games usually need a more immersive theme than Caylus to keep my interest past the 90 minute mark. Still, the game has enough potential that I'm eager to play it again. I like tactical games and my opinion will probably rise with more playings.
GemBlo
(reported by Susan)
Café International
(reported by Ed)
Café International
. Kevin also joined us for a round of seating patrons at the café.
Café International is one of the games Susan and I got early on after getting into Euro-games. We enjoyed it back then as a lighter game that you didn't need to think too much about. We would even play it sometimes while watching TV. Several years down the road I still think this is a decent game for the family market. It is very tactical where you are just trying to maximize your tile placements each round. However, since the players' tiles are face up, you can plan a little by watching the other players' tiles and see if you are safe in holding a tile or if you need to play it. You can also try not to play tiles that would set up another player for a bigger scoring opportunity. I'm not sure this game would win the Spiel des Jahres if it came out today, but it is still a pleasant way to spend 30 to 40 minutes.
Elasund
(reported by Susan)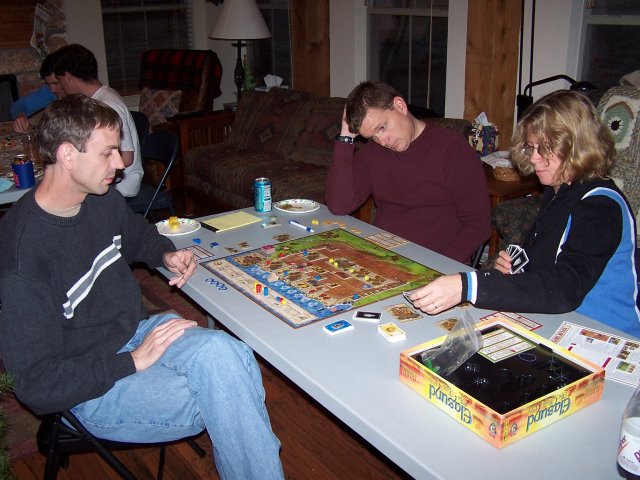 Marty, Mike and Susan play the popular Elasund.
Since I just wrote a
review of this game
, I was rather tired of playing and thinking about it. However, Marty had not had a chance to play it and Mike was eager to play it again. Since I do really enjoy it, I was easily convinced. Marty grasped the rules and strategies pretty easily and Mike came out of the corner swinging, so a pretty tight game ensued. Marty snatched up most of the cheap wall sections early, but I was able to get one cheap wall victory point. We all went for the windmills, snapping them up early and advancing almost evenly up the Trade Point track. With those two VP options looking less lucrative, we all turned our focus toward buildings and the board started to fill up very quickly. A few church tiles were built, but the rest of the game was mostly jostling for the very limited space, with Mike raking in the most cash, enabling him to place expensive permits, both protecting his buildings and allowing him to use Marty and my permits to build. We couldn't stop him, but the scores were very close. This is such a great game and it plays very well with just three players.
10 Days in Africa
(reported by Ed)
Ed's comments:
This seems to be the hardest of the three currently available 10 Days games. Although, "hardest" is a relative term with these games since they all have the same basic mechanisms. I guess that not being too familiar with African geography makes it a little harder. In this game Jon was the first make the 10 card connection and take the victory.
Susan's comments:
Recently getting and playing the newly released 10 Days in Europe has re-sparked my interest in this game series. Africa is the hardest for me because I'm not very familiar with the geography. I adore all of the games in the series though and I always find myself not wanting to stop at just one game. I almost never win and I always seem to be only one location away from a completed trip when the winner announces he is done. Arggh! Let's try it again!
Ubongo
(reported by Susan)
Still needing to fill some more time since Caylus was still going on, we pulled out our recently received copy of
Ubongo
. I'm usually happy if I'm able to solve my puzzle at all before the timer runs out, but tonight I was possessed and able to win several rounds. Alas, I had to settle for second place since I wasn't able to pick the gems I needed, furthering my opinion that the method for their selection is flawed, flawed, flawed. I keep saying it and not doing it, but I really want to try a variant. What an addicting game, though. Getting to play this and 10 Days in Africa back-to-back put me in puzzle heaven.
Bohnanza
(reported by Susan)
This is such a great little game; I don't think that I will ever get tired of it. However, we played with 7 which is just too many players. The trading either bogs down or goes too quickly with some players not getting their offers heard. With so many there are also sometimes multiple identical offers, making it tough to decide which one to take.
König Salomons Schatzkammer
(reported by Susan)

Other games: Caylus (x2), Antiquity, Neuland, Pig Pile, Ra
For more pictures from this game day, see our Picture Album.
Posted by Ed Rozmiarek at January 4, 2006 1:45 PM