Ready for concrete
by Ed Rozmiarek A much better week for progress on the house last week. The last major items that were needed prior to the concrete were installed. I was out of town all week but Susan and the boys went out Friday afternoon and checked out the progress, reporting back the good news. I was looking forward to getting home and checking things out myself.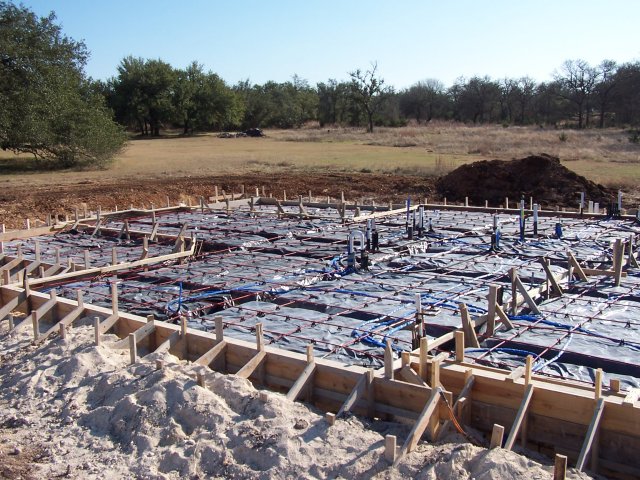 The copper water pipes, tension cables and rebar were installed.
We got a call on Sunday from the builder that the concrete was going to be poured first thing Monday morning. We had hoped to go out and watch this milestone, but the schedule just didn't work out. Instead, we decided to go out to the lot Sunday afternoon so I would have a chance to see the "before concrete" status and take some pictures. We also took advantage of this opportunity and had everyone to pick out a personal item to use as a good luck charm. These we buried in the foundation fill dirt.
While out at the lot this weekend, we also did our first yard work. There is a large oak tree in what will soon be our back yard that has a large vine growing on/over it. We started cutting this growth down. We were able to cut through the main branches near the base of the tree, but could only get a few on the vines down. The good new is that the vines aren't holding on to the tree much. The problem is they are multi-branched and tangled up together. We will need to bring out the pole trimmer and cut them up more before being able to pull them down.
| | |
| --- | --- |
| Here you can see the outline of the front porch and the main part of the first floor. | The rear of the house including the master bedroom, kitchen and dining room. |
Monday afternoon I got an e-mail that the pour went fine and so as I write this, we should have a finished foundation. (Well, once the concrete sets and they remove the forms. So, hopefully when we go out this coming weekend, we'll see a big difference. Also, the countdown to framing starts. The bad news is that with the foundation done, the builder will be taking the first big draw from the construction loan and we will be paying on a bigger loan this month.
Posted by Ed Rozmiarek at January 18, 2005 3:10 PM