Slow, slow, slow
by Ed Rozmiarek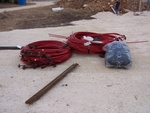 A slow week, this pile of steel cables was about the only thing new.
The last two weeks were pretty quiet on the house building front. We went out to the new house site on New Yearís day and on January 7. We saw little progress during either trip.
Even with some really nice weather to round out the year, I didnít expect much work during the last week of last year. I was a little disappointed in how little was done. The only thing that seemed to happen that week was a few minor changes to the sewer lines and a clean inspection.
The following week, the weather turned bad with several days of light to medium rain. But with the sewer lines done, they were able to move forward. The foundation contractor was able to finish the fill, covering over the sewer pipes and making the ruts for the main steel rebar. They were also able to get the vapor barrier laid.
| | |
| --- | --- |
| More fill. | The sewer pipes were covered over and the vapor barrier laid. |
The coming week should bring the copper water lines. Hopefully they can get more than that done, but with the probable inspection(s) needed for that, Iím sure that will slow things down. The builder says that the foundation seems to take forever and it does seem like it.
Posted by Ed Rozmiarek at January 12, 2005 12:15 AM