Painting the shack
by Ed Rozmiarek Due to the
living room beams being installed
on Monday and some questions about the tile, we had to make a couple of extra trips to the house this week. Therefore, we kind of knew what to expect this weekend during out regular visit but we wanted to go out anyway.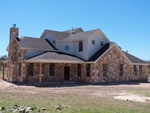 Mostly finished exterior
The main feature to note this week is the painting, which was complete by Saturday. I wasn't sure they could paint the interior in one week, but they did, including staining all of the cabinets. At first glance, they seem to have done a good job. There were a couple of spots that will need to be touched up, but no major problems that I could see. They also got the garage doors painted. Oh yea, the garage doors were installed this week.
In talking with our builder today (Monday), things should be picking up and not be so single threaded. The tiling should start in a day or two and the counter tops should be going in soon. We also got some good news on the septic system. After the tests, turns out we have an easy site to dig, install and operate so we should actually come in "significantly" under budget. Not sure how much, but it should help us recover from some of the overages in other areas and/or allow us to install a better driveway.
| | |
| --- | --- |
| Stained kitchen cabinets | Painted dining room |
In a continuing effort to tie up the loose ends, Susan and I went to the builder's hardware supplier and made the final decisions for the bathroom hardware (towel racks and such). We also stopped by Lowe's and bought the ceiling fans (we didn't find anything we liked and the lighting store several weeks ago).
As always, you can see additional pictures from this week's visit in the house photo album. There is a view of an interior door (yes, I know that's really exciting), other views of the cabinets and a view of exterior with the garage doors.
Posted by Ed Rozmiarek at April 4, 2005 4:08 PM