Shaping up
by Ed Rozmiarek During our weekly visit to the new house this week we were greeted with a structure that is looking more and more like a house. The crew had a pretty good week weather wise to get stuff done. It did rain on Thursday, but the first half of the week was really nice (although I was out of town and didn't get to enjoy it) and Friday and Saturday were relatively dry, although a bit cool.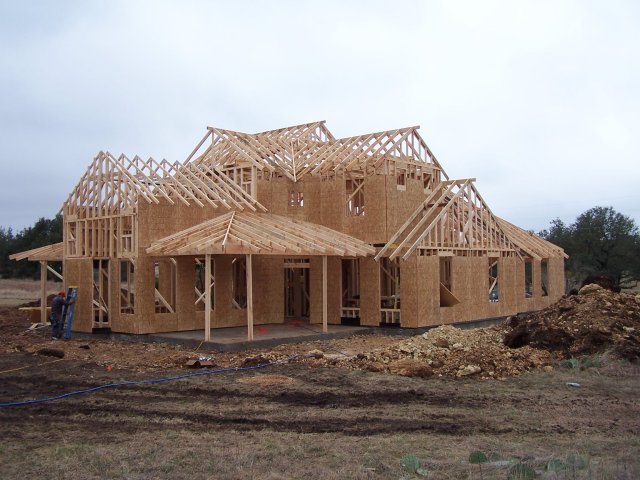 Looking like a real house now.
This past week the framing crew has gotten the second floor pretty much done, along with the roof rafters. On Saturday while we were visiting the site, the crew was still hard at work adding the fireplace chimney, the staircase, some miscellaneous internal touchups and had started on the external sheeting. While walking around we realized that a few of the interior walls on the first floor had been added since last week. So we were able to walk through the laundry room, kitchen and dinning room this week.
Since one of the crew was working on the staircase, we had to take a mud covered ladder to view the second floor. The second floor consists of the game room, boys' bedrooms, the office and a small library that will over look the family room. I must say that we really liked walking around the top floor. The game room is smaller than our current loft, but the boys' bedrooms and office and bigger than what we have now. And I think the library will really be nice once it is all done. The boys will have some of the best views looking out onto the back part of our four acre lot.
| | |
| --- | --- |
| A front view of the house. | A view of the back side of the house and the back porch. |
The framing crew hopes to have the rest of the framing finished, the roof decking on and exterior done this week. Unfortunately, the weather is not supposed to be good the next week with rain predicted Sunday through Wednesday. Visit the picture album for several other views of the house from this week.
Posted by Ed Rozmiarek at January 29, 2005 8:30 PM