Shea turns 8
by Ed Rozmiarek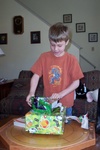 Shea opens his presents
Monday was Shea's eighth birthday. Since we were going to be busy with regularly scheduled activities (i.e. soccer) Monday, we decided to celebrate Sunday. After putting him off several times during the morning, he finally opened his presents just before lunch. Much joy was had as Shea opened his first two presents, more stuffed bunnies. Another white one (his favorite color of bunny) and his first black bunny. I've lost count but he has over 40 stuffed bunnies now. He also received was a new transformer, several manga books, another Eyewitness book and a stereo.
The highlight of the day for Shea was going to the mall to go to the (over-priced) Build a Bear Workshop. If you don't know what this is, it's a store where you "build" a stuffed animal. You pick it out, help stuff it, add a optional sound box and a heart. After that you "wash" it, pick out the clothing and print a birth certificate. So what did Shea build. That's right. A bunny. A soccer bunny to be exact. Yet another bunny.
Anyone want to guess what type of cake Shea wanted? ... Carrot cake, of course.
More pictures can be found in the Family photo album.
Posted by Ed Rozmiarek at March 9, 2004 4:18 PM