Date: October 23, 2003

Games: It's Mine!, Settlers of the Stone Age, Trendy

Attendees: Bobby, Dave, Doug, Ed, Jon, Kevin, Kris, Mark, Susan

Reporter: Susan Rozmiarek

Ed and I have been really lucky in getting to meet many of our online pals in person. It's even more of a treat to have them as guests and tonight we got to have Bobby Warren, Nigglybits and Spielfriek regular and his friends, Dave and Kris, over for games with some of our regular crew.

The night got off to a really slow start, with Mark being the only one to show true dedication and show up on time. We decided to go ahead and start a game, which nearly always brings latecomers to the door, generally just right after we get started.

It's Mine!: Ed, Mark, Kevin, Susan

This is an older Knizia game of set collecting and playing chicken. Players take turns flipping cards from the deck onto the table. The first person to hit the table and say, "it's mine," gets the cards. The cards score in various ways for both negative and positive points. The winner is the player with the most points after several rounds.

This game is simple and always a lot of fun. I always forget that it's a great one for newbies, too. Heck, this might be the perfect game to try with my non-gaming, Bunco-loving friends. They get to try and hit the table and holler before everyone else, just like in Bunco.

Results: Susan 74, Kevin 65, Ed 64, Mark 42

Doug showed up as we were finishing up. Since we were still expecting more, we pulled out Scream Machine and Ed explained the rules for Mark and Doug. Our second attempt at this trick worked and more people started arriving just as Ed finished with his explanation. We had enough for two tables now, and I opted out of Scream Machine to teach Settlers of the Stone Age to Dave and Kris, who were big Settlers fans while Bobby joined Ed, Mark and Doug building theme parks in Scream Machine. Jon later arrived just in time to join us as a fourth in Settlers.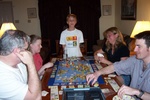 Guests Dave and Kris Hart play

Settlers of the Stone Age

with Susan and Jon while Kevin mugs for the camera.

Settlers of the Stone Age: Dave, Jon, Kris, Susan

I haven't been keeping count, but I bet I've played this one at least ten times now. Despite the static board, I have not become bored with it and am still enjoying pursuing different strategies. I think the fact that I am always having to adjust my plans due to varying resource rolls, and what other players do help in keeping the game fresh.

My favorite strategy is to keep my camps moving quickly, picking up those tribe counters as fast as I can. This time though, I tried going the exploration route, skirting the edge of Eurasia right away to pick up those counters. I was able to get and hold on to the Exploration card for the entire game besides picking up a few Adaptation cards as well. Kris was nipping at my heels the entire game though, and won the 2 VP Expansion card. Jon also had a late game jump, earning a couple of Art cards. I've noticed two sure characteristics of Settler games. One, the Settlers dice defy all the laws of statistical odds. I don't think a six was rolled the entire first half of the game. And two, there is always one player who spends the game lagging behind, burned by the defiant dice. That player in this game was Dave, who, although frustrated, I hope liked the game anyway.

It came down to the wire with Kris and me trying to gather the resources to build a final camp and Jon right behind us. Kris was able to pull off the win a turn ahead of me. Great game!

Results: Kris 10, Susan 9, Jon 8, Dave 5

Trendy: Bobby, Dave, Kris, Susan

Bobby and his friends needed to get going but I hadn't yet gotten to play a game with him yet and convinced them to stay for a short one. Trendy had flopped with his group back home so I suggested he give it another try. Unfortunately, our biggest and loudest Trendy fans were not present, and I'm not sure I convinced him that this light game can be fun with an appreciative crowd.

Results: Bobby 142, Susan 129, Dave 115, Kris 103

Other games played: Scream Machine, New England, Wyatt Earp

Another great evening of games that was over too quickly. Bobby is already threatening a return visit and we are hoping to convince his local friends Dave and Kris to start coming on Thursday nights.
| | |
| --- | --- |
| Mark (back turned), Doug, Bobby Warren and Ed playing New England, recently names Games magazine game of the year. | A close up of the New England game. |
| Mark, Doug, special guest Bobby Warren and Ed try out the new Scream Machine from Jolly Roger Games. | Closing the night with Wyatt Earp. |
For more pictures from this gaming sessions and others, see our Gaming Picture Gallery.
---
This page viewed
times since October 31, 2003.

E-mail Ed Rozmiarek with questions or problems concerning this page.

Copyright © 2003, Ed Rozmiarek