Is it 2008 already?
by Susan Rozmiarek
A Happy New Year to everyone! January is, of course, a time to make resolutions and map a plan for the coming year. I did pretty well with achieving last year's resolutions as far as gaming goes. I knocked quite a few games off my unplayed list and we reorganized our games with the help of IKEA.
My only real gaming resolutions are to continue to go after my unplayed list with dogged determination and to catch up on writing reviews of games that I've received for that purpose. Oh, and there's one more. I'd like to be a little more active on online forums as well as take the time to make comments on other blogs. I feel like I've kind of dropped out over the past year.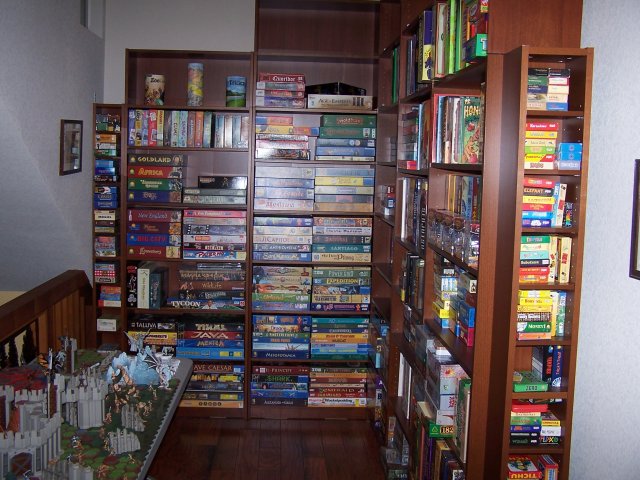 Here is part of our game collection on the new "Billy" IKEA shelves on a balcony overlooking our living room. The rest are on a wall of shelves in the living room and a downstairs hall closet. You can also see part of a big Heroscape setup built by our son Shea.
As far as this blog goes, I will probably be experimenting a bit. I often don't feel like I have the time to compose a post because I tend to write way too much once I get started. I'm also always struggling with trying to make my writing read as "professional" as possible which takes me even more time as my scientific education and subsequent career did not do much to develop writing skills. So, I might try writing shorter posts of a more chatty nature although I still will be doing occasional full reviews of games. Instead of trying to write a comprehensive game day report, I might just write about the game I found most interesting. This will mean that I post more but the quantity may be at the expense of quality. However, I do hope to try and develop a skill that other writers do much better than me - that of distilling their thoughts on a game into just a few lines. I've been trying already to start doing this in the past few months of posting. We'll see how it goes.

Posted by Susan Rozmiarek at January 6, 2008 8:36 PM