Meta-post on comment spam
by Ed Rozmiarek Blog comment spam, the bane to my existence right now. The amount of comment spam we are getting these days is just staggering (stats later). The blacklist tool we use helps a lot, but the number of new comments that gets through the filters keeps up at a fairly constant pace, probably about 20 a day. Sometimes over a 100 or more get through a day. I know I need to upgrade to the latest level of Movable Type to get the new comment filtering tools. I plan to do that someday soon pending just having the free time.
One new type of comment spam that we have been getting a lot of recently is blogspot spam. These comments using URLs based on blogspot.com and redirect to a link farm or some other spam related site. After doing some reading, it seems these have been around for a while but we have just started getting hit with them in the last couple months. It appears that the number of these is growing and are not being controlled by Blogspot.
This problem has caused me to break down and add "blogspot.com" to the blacklist. I know there are a few regular readers & commenters that have real, valid blogs hosted by Blogspot. By adding blogspot.com to the blacklist will block these people from adding links to their blogs when they comment. For this, I apologize in advance. However, until Blogspot can figure out a way to stop spammers and link farmers from co-oping their redirection service, blogspot will remain on the blacklist. Why? Early results show the scale of the problem. In the first 12+ hours after I added blogspot to the blacklist, over 130 comments have been blocked. In fact, 5, no, make that 9, new ones from blogspot have been blocked since I started writing this blog entry. Sigh…
Speaking of stats, how bad is this whole problem? I ran some stats on the number of spam comments that have been blocked this year. Since the start of the year, the blacklist filter has blocked over 11,500 comments, an average of over 42 a day. September was really bad with 3416 blocked comment (about 114 a day). Today is October 2 and we have already blocked 416 comments this month. Just incredible.
For fun, I created a chart to track the numbers. Here's the graph of the problem.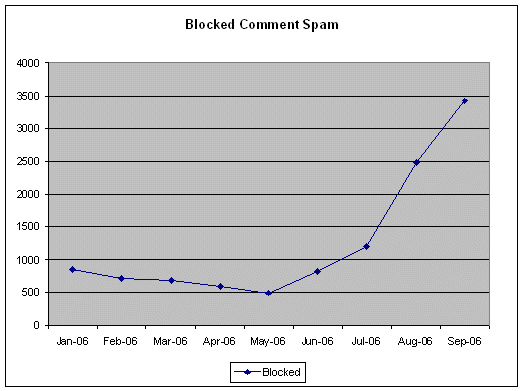 So, again, I'm sorry to those people with valid Blogspot blogs, but blogspot.com will remain on the blacklist for now.
Posted by Ed Rozmiarek at October 2, 2006 9:49 AM