Two Player Gaming - January 7, 2006
by Susan Rozmiarek

World of Warcraft, the online version that is, has entered the household via Christmas and wild horses couldn't drag the Rozmiarek children away from the computer. So, it was Ed and I on our own to play games of the board variety tonight.
Jambo
This game is starting to approach the addictive qualities of Lost Cities for me. Especially since Ed won't play Lost Cities with me anymore. :-( The more I play Jambo, the better it gets as I learn the special cards and how and when to use them.
Luck was not with me tonight at all. Ed had a killer sale that netted him 18 gold. Meanwhile, I was having a pretty dry spell of not being able to draw any goods cards. Finally, with the help of Supplies and Scales, I was able to get some and make a couple of quick purchases and sales to take back the lead. Too bad Ed was able to come back for a narrow victory.
Dynasties
I would have been happy to play Jambo again right away, but instead we decided to take this new two-player game by our friend Alan Newman on an inaugural run. Players are trying to control 5 different territories of Ancient China by having the most armies present in each. This is done in nine rounds with a blind bidding card mechanism with a scoring of the territories taking place every third round. What sets this apart from just being another blind bidding game are special cards that can be used in interesting, strategical ways.
Ed absolutely annihilated me during the second scoring round and I couldn't recover. Now that I've seen how some of the cards can be used, I'm eager to try it again. There is also an "expert" version and a variant that I would like to try as well. The only thing that does disappoint me about the game is the component quality. The board is a rather ugly yellow color and it has warped pretty badly. The cards are of only so-so quality as well. The markers and cubes representing armies are nice-sized and wooden, however.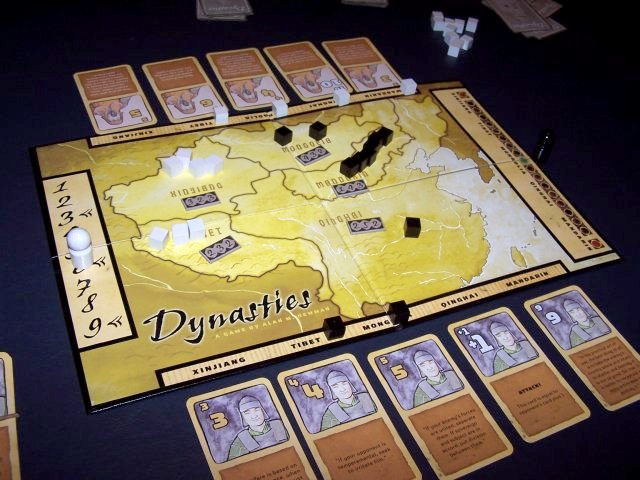 Good grief! Look at all of Ed's evil black armies in Mandarin! I think he's due for a Plague....
Posted by Susan Rozmiarek at January 8, 2006 8:41 PM