There's a new store in town
by Ed Rozmiarek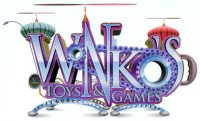 This might not interest those of you outside the Austin area, but there is a new game store in north Austin.
Wonko's Toys and Games
just opened in the Lake Creek Festival shopping center on highway 183, south of 620. For those familiar with the area, this is the shopping center with the
Alamo Draft House
, Hobby Lobby and Stein Mart.
I was able to stop by on the way home from work yesterday to check it out. They seem to specialize in toys right now (maybe 75% of their stock). Mostly collectable action figures relating to movies, video games and comic books. They had things from Star Wars, GI Joe, Halo 2, MechWarrior, etc. Most of items were new, current releases, but they did have some older, collectable items and a few used things.
Game wise they had a small selection of designer/euro games, some Steve Jackson games, a few used (collectable?) games and a selection of the basic CCGs. The games they did stock were pretty good, several Days of Wonder games, Settlers, several Carcassonne versions, etc. Their selection was not as good as Dragon's Lair or Great Hall Games, but that may be because they are keeping their initial stock low until they get some traffic. Prices seemed to be retail list but they were running a 10% off Halloween sale and there is also 10% off coupon in a recent Austin Chronicle.
I talked with the owner briefly and he seemed pretty nice. They currently do not have in-store gaming but may add that in the future. So, if you are in the area, stop by and check them out, especially if you are interested in the collectable toys as they did have a pretty good selection of those.
Posted by Ed Rozmiarek at October 27, 2005 9:35 AM