Session Report for February 12, 2004
by Susan Rozmiarek

I had soccer practice duty tonight, making me late. I was only able to get in two games, but both were very enjoyable.
Maya
I had yet to play this new game of building pyramids that had won the prestigious Hippodice contest in 2002. I had read that it was a pleasant mixture of familiar mechanisms. This turned out to be a very accurate description. Included in the rules were blind bidding, area majority control, cards with a dual purpose, and special actions along with a few unique twists. It was very good, though. Everything blended together very smoothly and the game had a unique feel to it despite its recycled mechanisms.
In this game, players are building pyramids. The object is to have a majority of your blocks on each completed row of the pyramids, as these rows will score at the end of each round. Players are bidding on both the number of blocks they will get to build during that round as well as the different special actions, which includes who gets be the starting player in the building round. The bidding is tense with a good bit of bluffing. Everyone has an identical set of cards, which are used for both bidding and building later. This requires you to carefully manage your hand, making sure you leave yourself with enough cards to build the blocks that you win. There is a really nice erosion mechanism at the end of each round, which penalizes the players that scored on each row, helping to keep leaders in check. Battles for controlling the rows can be fierce, with opportunities for clever plays using the special actions.
Ed and Jon each managed to dominate a pyramid near the end. Even so, the scores were fairly close.
Results: Ed 47, Jon 41, Susan 37, Mark 37, Roxana 24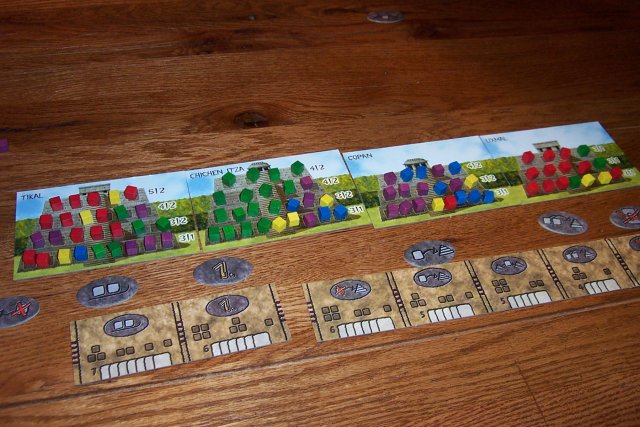 Maya
, After the final building round.
Finstere Flure, with two monsters
We decided to close out the evening with something fun. Finstere Flure remains very popular with our group. This time we decided to do something crazy and play with the "
Dracula vs. Frankenstein
" variant by Mike Mayer. This variant uses two monsters that move one right after the other, creating an even more deadly game.
Okay, this is definitely fun to try at least once. It worked well, but the problem with it was that our game bogged down as players took even longer than usual on their turns with two monsters to consider. It might be a little better to try this with fewer players. The downtime with the five of us prompted Ed to get out the G8 Game Timer as a threat. Of course, he was just as slow on his turn.
We were each able to get one person out, with Doug being the first to accomplish this impossible feat. The rest of our people were slaughtered mercilessly by the monsters.
Results: Doug in first, followed by Mike, Ed, Mark and Susan
| | |
| --- | --- |
| Yes, the two monsters stopped here. The poor soul. | Poor Becky Sue. It's always the cute blonde that is the last to go. |
Other games played: Favoriten, Alhambra, Coloretto
| | |
| --- | --- |
| Mike, Doug, Mark, Jeff and Ed warm up with a little horse racing action with Favoriten. | Doug, Rick, Jeff and Mike get in yet another game of Alhambra. Wake up Mike! |
For more pictures from this gaming session and others, see our Gaming Picture Gallery.
Posted by Susan Rozmiarek at February 15, 2004 11:24 PM